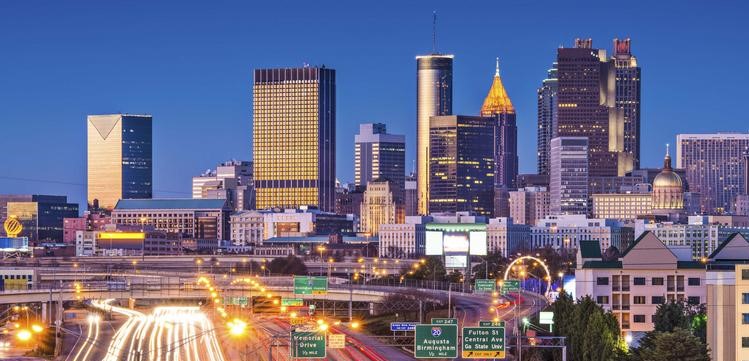 As a rapidly growing hub for international business, the media industry, and globally-oriented research, Atlanta offers an unparalleled living laboratory to explore the grand human challenges of our time.
A Campus-wide Commitment to Global Education
An STEM-oriented institution may seem like an unlikely place to pursue a degree in the humanities, but the liberal arts have been a crucial part of Georgia Tech since its foundation in 1888. Working closely with our colleagues across campus and across Atlanta, we offer a humanities education that participates in addressing the grand challenges of a globalized and technological world. 
Global Education is a keystone of the Georgia Tech experience. 50% of students study a language during their time at Tech, despite there being no language requirement. The Institute offers an "International Plan" that integrates substantive time abroad into any major, as well as a Global Internship Program and robust university exchange programs in over 30 countries. Across our campus, faculty and students are committed to collaboration across cultures and thinking deeply about how technology impacts society, whether they are engineers, designers, or entrepreneurs. There is no better place to imagine how your skills in the liberal arts can shape your future and the future of our world. 
A Global City in Flux
Famous for having the world's busiest airport and a extraordinarily diverse culinary scene on Buford Highway, Atlanta is also one of the top centers of international business and research in the United States. The city is home to 2,100 multinational businesses and to the diplomatic corps of 73 countries. The headquarters of companies like the Coca-Cola Company, Delta Airlines, and Porsche are just minutes away from the Georgia Tech campus. With over a dozen incubators including Georgia Tech's Tech Square, the city is quickly becoming a center of cutting-edge tech innovation and social entrepreneurship. It is also a major center for biotech research, with the Carter Center (Jimmy Carter Presidential Library and Museum), Center for Disease Control and Prevention, American Cancer Society, and the Task Force on Global Health.
Home to the headquarters of CNN and Turner Broadcasting, Atlanta also serves as a national nerve center of the media industry. It is the No. 1 location in the United States for feature film production, having served as a key location for the Hunger Games, Ant Man, and The Blind Side, as well the home of hit TV shows The Walking Dead  and Stranger Things. Alongside Midtown's Woodruff Arts Center, Center for Civil and Human Rights, and Fox Theater, the city has a vibrant music, theater, and arts scene. 
Personalized Access to World-class Resources
Modern Languages faculty are consistently recognized for cutting-edge research, innovative teaching, and unrivaled collaboration with industry professionals. Georgia Tech's long-standing partnerships with universities, companies, and media organizations make it possible for our students to conduct research, produce media, intern, or study abroad in over a dozen countries. Through a combination of rigorous training, portfolio-building, and hands-on experiences at home and abroad, our curriculum provides the essential skills training and leadership opportunities that you need to be competitive and create the next step in your career.