30 credit hours | Available in: Chinese | French | German | Japanese | Korean (NEW!) | Russian | Spanish
The interdisciplinary Master of Science in Global Media and Culture is a joint degree from the School of Modern Languages and the School of Literature, Media, and Communication. It prepares students to pursue professional careers that require advanced training in communication and media as well as expertise in a particular linguistic region of the world. The curriculum provides a theoretical grounding in media and cultural studies, advanced training in a critical global language, and hands-on cross-cultural experience through study abroad, internships, and creative projects. Students create a bilingual portfolio that positions them for success on the job market. 
M.S. in Global Media and Cultures takes one year to complete (Fall, Spring, and Summer). Students take 30 credit hours of course work, have a concentration in one of the available languages, defend a professional portfolio, and complete a final project. 
Program of Study
Students apply to be in one of the six available language concentrations. Each semester, they take one core course, one course in each School (Modern Languages and Literature, Media, and Communication), and one more elective in either ML or LMC. Each student's program of study is designed individually to meet their career goals through electives, internships, and independent projects on campus and abroad.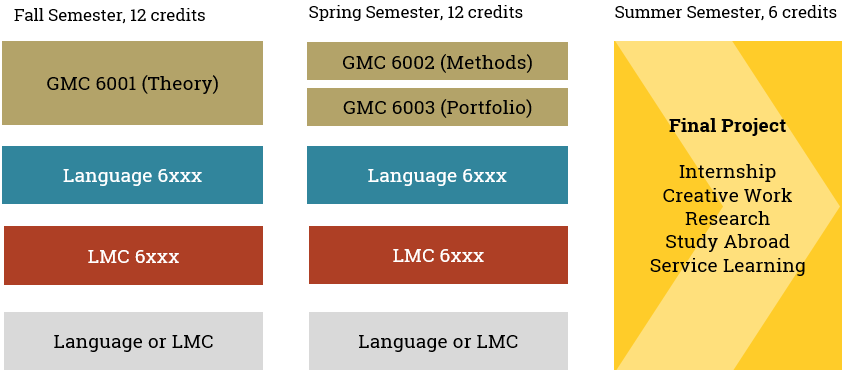 Core Curriculum (required courses):
GMC 6001: Global Media and Cultures (Fall): Team-taught in English by ML and LMC faculty. Students gain a theoretical grounding in analyzing and navigating cross-cultural and multimedia contexts; they also design the preliminary proposal for their final project in consultation with the advising team. Course themes will explore a global issue across multiple contexts and forms, with case studies and topics varying based on student interest, current global affairs, and faculty expertise.  3 credits.
 
GMC 6002: Research Methodologies (Spring): Taught by ML & LMC subject librarians, this course provides students with a working knowledge of research methods and practices, intellectual property, and public communication. Students will better understand the published work of others relative to their individual research and projects, and how to effectively communicate their own work in the public sphere. Students complete a literature review, an annotated bibliography, and a research communication plan. Collaboration with Georgia Tech's Library Next. 1 credit.
 
GMC 6003: Professional Portfolio (Spring): In this course, students create a portfolio of targeted materials to position themselves for success on the job market. These include resumes in English and the language of focus, samples of professional-level work, the development of a professional network, and the defense of their Final Project Prospectus. 2 credits.
 
Final Project (Summer, various courses available): Final Projects are developed over the year and completed in the summer. They can take a variety of forms based on students' academic and career interests, including a research project, media project, domestic internship, internship abroad, a practicum through an LBAT program, or study abroad. Each project must include an applied and reflective component in which students demonstrate the expertise gained in language, media, cultural studies, and communication.
Degree Requirements
6 credit hours of MSGMC required Core Courses

GMC 6001. Global Media Cultures, 3 cr, Fall
GMC 6002. Research Methodologies. 1 cr, Spring
GMC 6003. Professional Portfolio. 2 cr, Spring

6 credit hours at the 6000-level in LMC, at least one course per semester in Fall and Spring.
6 credit hours at the 6000-level in one language offered by ML (Chinese, French, German, Japanese, Korean, Russian, Spanish), at least one course per semester in Fall and Spring.
6 credit hours of Electives (6000-level in LMC or ML)
6 credit hours of a Final Project, which may include a combination of coursework, MS Thesis, an internship or practicum, or independent project in LMC or ML, Summer
 
Individualization Guidelines
The degree requirements are adaptable for individualized needs and interests. Each student's course of study will be designed through dual advising by faculty from each School, according to the following guidelines:
Required courses, electives, and the culminating project should indicate a clear area of specialization in a linguistic, cultural, thematic, or disciplinary area of inquiry.
Students must take a minimum of 6 credit hours each in ML and LMC. They may take a maximum of 18 credit hours in one School for their individualized program of study.
Students may enroll in Internships (domestic or abroad), Language Practicum courses (domestic or abroad), or Intercultural Seminar for up to 6 credits each. In total, students may count no more than 12 credits of courses in these categories toward the degree. Students may enroll in no more than 3 credits of MS Thesis in Summer Semester.
3 credits of elective coursework can be undertaken in another unit, as per approval by graduate advisor.