Please join us on January 18, 2019 at 9:00 am in the Swann Building (613 Cherry St.), Room 320 for an Open House of our Graduate Program in Global Media and Cultures, which includes the 1-year M.S. in Global Media and Cultures and 1-year M.S. in Applied Language and Intercultural Studies. Open to all students and potential applicants in the Atlanta Metro Area. 
FOCUS Fellows: If you previously applied to participate in the Georgia Tech FOCUS Program, please RSVP directly with Ivan Allen College, and visit the FOCUS website for more information. A faculty member from our program will meet you at the Dean's Breakfast to walk over to the Open House. You can also visit our program's FOCUS page here.
Featuring Presentations by our Faculty
Schedule
Meet the faculty of Modern Languages and Literature, Media, and Communication.

Learn about our curriculum, research, and on-campus resources.

Explore how graduate education could help you launch your dream career. 
10:30-11:15 am: Tour of Labs and Studios
11:30-1:00 pm: FOCUS Lunch 
Gordy Room, Wardlaw Hall
1:00-3:00 pm: Drop-in Advising 
Swann Building, Room 117
Our faculty and advising team would be more than happy to answer questions you may have about the program. Please stop by the Graduate Studies Suite (Swann 117) if you have any questions!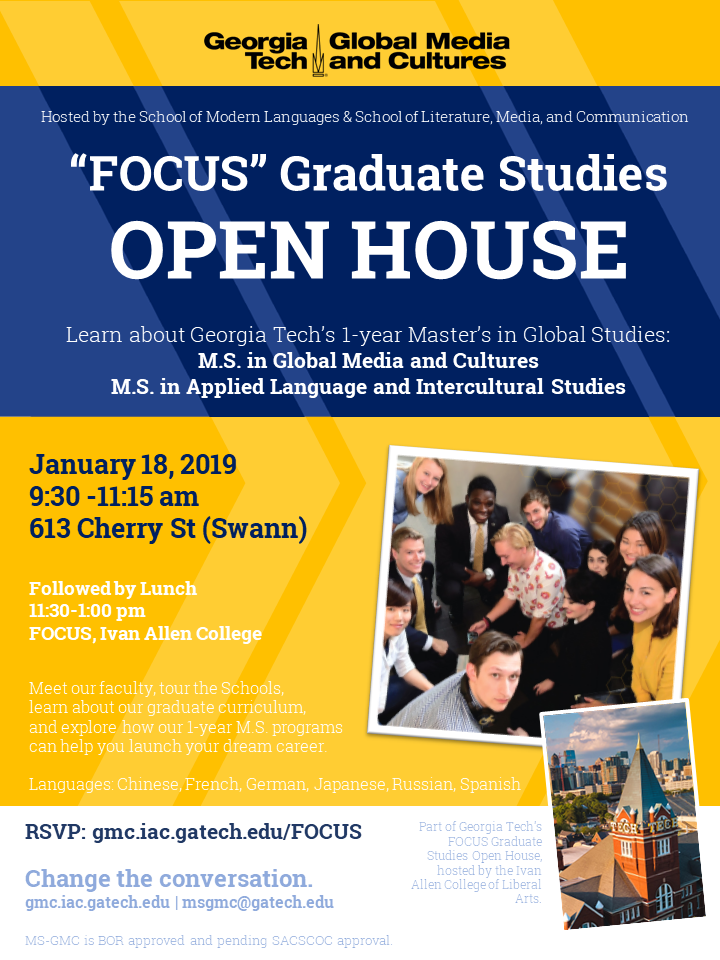 Parking and Transportation
All campus transit is fare-free and available for all parents, alumni and visitors. Check NextBus to find out when the next available bus will arrive (also download the iPhone, Android or official Georgia Tech app). 
MARTA:  The Swann Building is a 5-10 minute walk from the North Avenue Station (Red/Gold). The Tech Trolley also takes passengers between the Midtown Marta Station (Red/Gold) on 10th Street and the on-campus Transit Hub, which is next-door to the Skiles building and a 2-3 minute walk to the Swann Building. The ride from the Midtown MARTA to the Transit Hub takes about 30 minutes.
Visitor Parking: Visitor Parking is available in the Visitor Lot 1 on North Ave. Additional parking areas and instructions are available here: https://pts.gatech.edu/visitors 

Directions from I-85/I-75 South:
Take Exit #249D (North Avenue). 
At the top of the exit ramp, turn right onto North Ave. 
Continue on North Ave. approximately 1.5 blocks through the traffic light at Techwood Drive. 
On the left, you will come to a large parking lot called Visitor 1 Lot. Simply pull to the Visitor 1 gate (on the left once inside the lot) and take a ticket. It is before the Hampton Inn.
Campus map: http://map.gatech.edu/
Parking Permits: We can provide parking permits if reserved in advance. Please indicate if you need a parking permit when you RSVP.